Welcome to the Clemmons School
Developing life-long learners
Rated: 5-Star Child Care Learning Center
Built and opened in 2003, the Clemmons school is conveniently located on Lewisville-Clemmons Road with easy access to, and from, both US 421 and Interstate 40. Designed to comfortably accommodate 195 children from six-weeks old to school-age, the school provides a nurturing environment with a stimulating program implemented by our team of professional early childhood educators.
Come by for a tour!
We are open 6:30 a.m. – 6:30 p.m. Monday through Friday. Contact us today to experience our award-winning learning environment.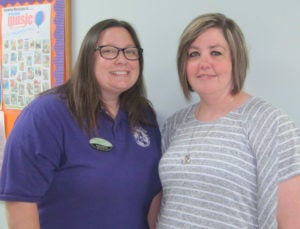 Amy Bendel (right)
Director
amy@achildsworldnc.com
Kathy Johnson (left)
Assistant Director
kathy@achildsworldnc.com
2005 Lewisville-Clemmons Road
Clemmons, NC 27012
Phone: (336) 766-8222
Fax: (336) 766-5156
Upcoming Events:
May 1-5: Teacher Appreciation Week!
May 12: Mother's Day Celebration
May 29: ACWLC Closed for Holiday

Click here to view this month's newsletter.